Symbolism of our School Crest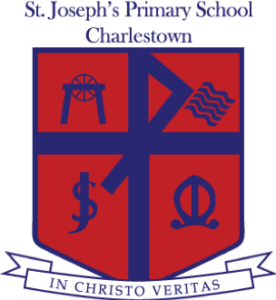 The Poppet Head recalls the mining history of the Charlestown area.
The SJ represents the Sisters of St Joseph of Lochinvar, who have worked in the Charlestown area since 1927.
The Waterfall reminds us of the Flaggy Creek waterfall above Glenrock Lagoon, a beauty spot of the local natural environment.
The 'M' symbolises the Charlestown parish of St Mary Immaculate.
Binding together all these elements is the large sign of Christ and the motto reads:
In Christo Veritas — Truth in Christ